How to add lotto results (All Others)
Please follow these instructions on how to add your most recent lotto results to your website:
Enable Lotto
Firstly you will need to enable lotto in your site customiser. To do this:
Login to the dashboard,
Click Appearance > Customise,
Click on "Lotto Options",
Under Lotto Integration choose "Other",
Choose your currency,
Add you URL into the "Play Lotto URL".
You also have the option to edit the titles that appear on the homepage.
Once complete, don't forget to click "Publish".
Add Weekly Results
As we don't have an automatic integration for your lotto provider, you will need to add your lotto results each week, in the same way as you add a news post to your site. Please follow the instructions below:
Login to the dashboard.
Go to Lotto and click "Add New".
Add a title, this will not be seen on the frontend and will just be used for your reference.
Add your lotto Numbers into the 4 fields. If your lotto uses more than 4 number, just hit the orange "Add #" button to add another line.
Select the "Draw of Date" – This will be displayed on the front end.
If your jackpot has been won, check the "Jackpot Won?" checkbox and fill out the name of the winner in the new field that appears (optional).
If you have Draw Winners, check the "Draw Winners?" checkbox and fill out the details of each of the draw winners (optional).
Add information about when and where your draw took place to the "Draw Details" box.
Add the new Jackpot to the "Next Weeks Jackpot" field.
You can add information about next week's draw into the "Next Weeks Draw Details" box (optional).
Please note that fields with an

*

are required and cannot be empty.
Click the orange "Publish" button to make the results live.
Please see the screenshot below for clarity: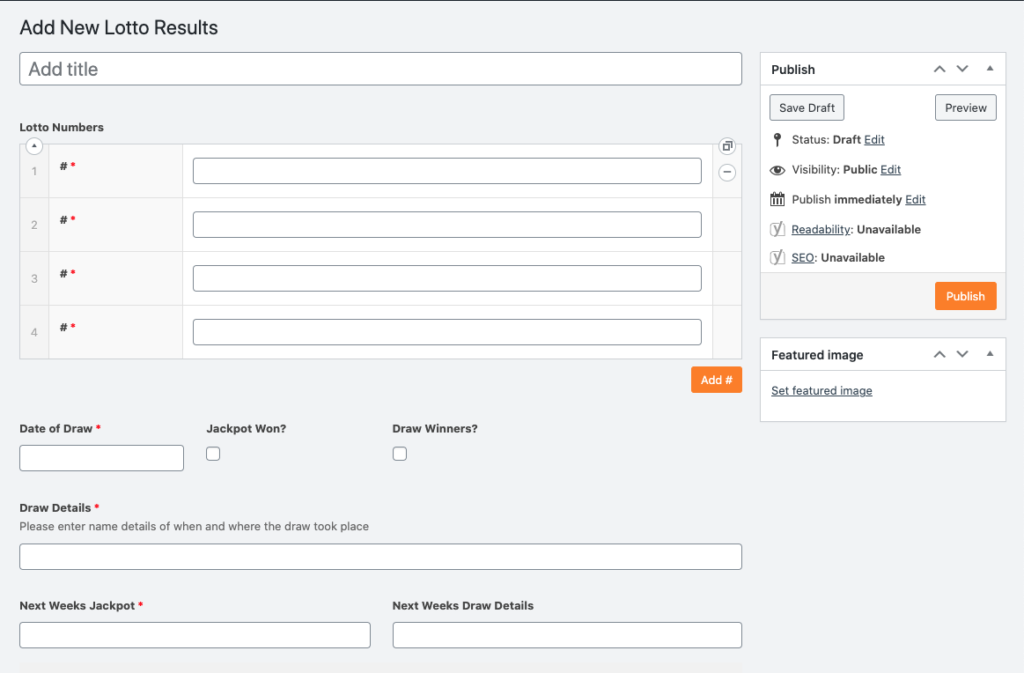 Don't forget – there's a built-in Help section, top right on all pages of your site!