If your Club/County does not use Servasport to store fixtures and results we have set up a way to manually insert these to your site. Here are instructions on how to do this:
Login to the dashboard
Go to posts and click "Add New".
First thing you'll need to do is add the date of the fixture/result to the title text box (where it says "Enter title here").

It's best to keep it in full format, so "Monday 9th May 2016" just so that it doesn't conflict later down the line.

Then change the Category (on the right) to either Fixtures or Results *

* The category will be named depending on your specification during development.

This will automatically change the layout of the page so that you can add competitions.
Click the blue "Add Fixture" button to start adding content for that day.

Try to add them in order of date so for example – add Monday's competitions before Tuesdays. Otherwise to change the order you'll need to go back and change the published on date to earlier than the others. Unfortunately this is just a draw back to not using the Servasport system. 
Please see screenshot below for clarity: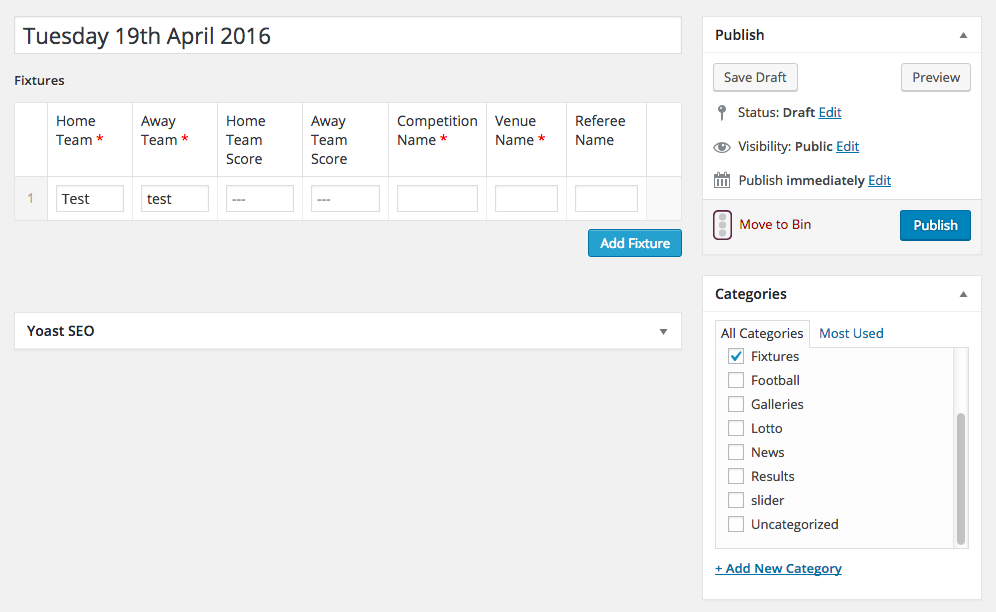 ---