How to add competitions manually
If your Club/County does not use the GAA's Games Management System (GMS – formerly Servasport) to store fixtures and results we have set up a way for you to manually insert these into your site. Here are instructions on how to do this:
Login to the dashboard
Go to Competitions on the left-hand side menu and click "Add New".
First thing make sure that you have 2 Comp Types:

Fixture and
Result

Add a title to the item, this won't be displayed on the frontend but will allow you to find the competition quicker in the future.
Then change the Comp type (on the right) to either Fixture or Result
Under the title Fixtures, click the Orange "Add" button to get started
Fill out all the fields, adding TBC to any fields that don't have confirmed information.

Team 1 Name
Team 1 Score
Team 2 Score
Team 2 Name
Competition Name
Venue Name
Time
Referee
Comp Style – this will give the fixture its own specific colour on the front end.
Fixture Date – this will appear as the title
Please see the screenshot below for clarity: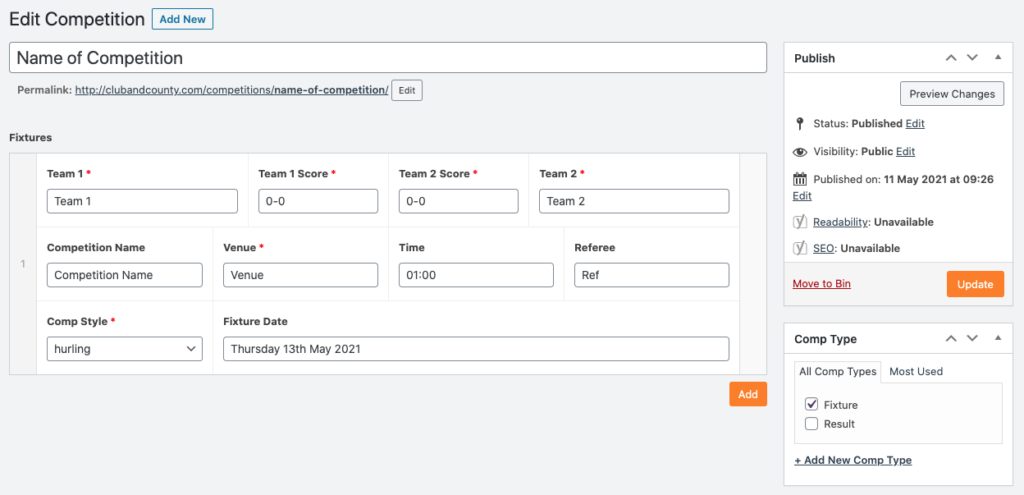 If you would like to switch a fixture to a result, just edit the item again and change the Comp Type.
Don't forget – there's a built-in Help section, top right on all pages of your site!